Bankruptcy Filings Returning to Normal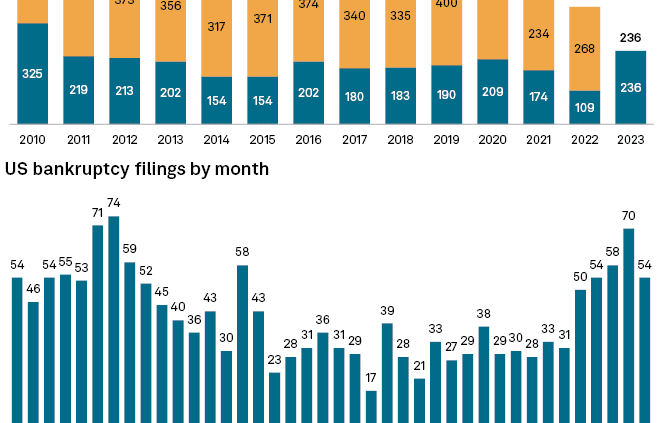 Bankruptcy Filings Returning to Normal
During the pandemic, bankruptcy filings dropped, mainly due to economic relief programs granted during the shutdown. Now that the economy is improving and bankruptcy filings are "returning to normal", additional struggles from the pandemic are appearing.
As the federal aid ended, households and businesses alike began to feel the financial strain of the pandemic hit. Bankruptcy filings have since increased in the post-pandemic years, trending upwards each month in 2023. Households are feeling the effects of the economy trying to stabilize after the shutdown, between higher interest rates, inflation, and businesses closing affecting the job market. Though pandemic relief helped keep many households afloat, the absence of these programs has caused distress in both businesses and consumers.
Effects on Businesses
Businesses such as Bed Bath and Beyond, Party City, Rite Aid, and others are closing their doors, all taking to bankruptcy as the economy still attempts to stabilize after the pandemic. While businesses received some relief during the pandemic, it seems in the absence of these programs businesses are struggling to return to pre-pandemic status. With many larger businesses closing, it raises concerns about the employment rates.
Post-pandemic unemployment rates have been on a downward trend in recent months, however with the uptick in filings it seems many Americans may be looking for work again. Major corporations have struggled since resuming work after the pandemic, from issues in shipping supplies to strikes forcing businesses to lay off workers or shut down, creating additional hardships for consumers who are now struggling without a steady income.
Effects on consumers
Many consumers took out credit cards or other personal loans to help during the pandemic. With deferment periods now ending, it seems many consumers are faced with an unsurmountable amount of debt. Household debt owed coupled with the high cost of goods and services with inflation has financially hindered many consumers. The Federal Reserve has raised interest rates 11 times since last year. This has caused lenders to tighten their purses and forced consumers to agree to unmanageable interest rates, plunging them further into debt.
This effect can be seen when comparing pre-pandemic filings to more current years. In 2019 there were 777,940 filings across all chapters for the year. In 2020, filings dropped 30%. Filings continued a downward trend in both 2021 and 2022. However, in 2023 filings were up 17% in the first half of the year alone. This number is anticipated to continue to rise throughout the end of the year as the number of consumers struggle to regain financial freedom in a post-pandemic world.  Bankruptcy filings returning to normal is only the start of the economy's return to to the status quo.
If you are reading this article and find that it speaks to your financial situation, contact us today.
https://daxjmiller.com/wp-content/uploads/2023/10/2023-filings-increase.png
834
660
Dax Miller
https://daxjmiller.com/wp-content/uploads/2022/02/DaxJMiller-Blue-Logo-web.png
Dax Miller
2023-10-29 11:01:41
2023-10-29 11:01:41
Bankruptcy Filings Returning to Normal